Rethink what a pH meter should be. edge® pH is seriously thin and light with lab grade...
more
Product information "HI2002 edge® Dedicated pH/ORP Meter"
Rethink what a pH meter should be.
edge® pH is seriously thin and light with lab grade functionality packed into a tablet design. With simple operation and advanced features, edge pH easily outperforms all other portables and benchtops in its class.
Pricing includes edge pH/ORP meter, a smart pH electrode, buffer and cleaning solution sachets (2 each), bench cradle with electrode holder, wall mount, adapter, and FREE shipping.
Your edge meter will automatically recognize each digital electrode, providing sensor type, calibration data, and serial number. Advanced pH electrode diagnostics ensure worry-free measurements. Use your edge pH meter as a portable, benchtop meter, or mount it on the wall to save space.
Stunning 5.5 inch screen with 150° viewing angle provide one of the easiest to read LCDs in the industry.
Set up and calibrate your meter in no time with 1 point calibration.
Built for everyone from educators and researchers to quality pros and makers.
Details
edge® pH digital meter is packed with many cutting edge features to ensure accuracy and usability.Digital pH Electrodes
edge pH electrodes are highly advanced, featuring a built-in microchip that stores calibration information that is automatically retrieved by edge once the electrode is plugged in. With a digital electrode, it is possible to change electrodes without having to recalibrate since the calibration information is stored in the pH electrode and not the pH meter. This allows flexibility for the user that measures pH with more than one electrode. (ORP electrode sold separately).
CAL Check
Hanna's exclusive CAL Check feature analyses the pH electrode response in the pH buffers during the calibration process to alert the user of potential problems such as contaminated buffer and clean electrode. After calibration, indicators for probe condition and response time are displayed on the measurement screen.
Sensor Check
When used with Hanna's electrodes equipped with a matching pin, edge constantly checks the impedance of the pH measuring electrode to notify you in real time in the event of glass breakage. During calibration, Sensor Check checks the state of the junction. The reference junction is also evaluated and reported on the display.
edge® is incredibly versatile. It can be used in a variety of ways and in a variety of environments without taking up the space of a traditional benchtop meter.
Wall Mount
Using the wall mount cradle (included), edge can be placed on a wall, leaving zero footprint on the benchtop space. The cradle has a built-in connector to power edge and charge its batteries. edge's zero footprint is designed to save you valuable benchtop space.
Cradle and Electrode Holder
edge is equipped with a benchtop cradle with an adjustable swivel electrode holder to charge and hold the edge securely in place at the optimum viewing angle.
edge® is incredibly thin and weighs only 8.8 oz., has an 8 hour battery life, and dual USB inputs
Two USB Ports
edge includes one standard USB for exporting data with a flash drive and a second micro USB port for you to connect to a computer for file export and for charging your edge when the cradle is not available.
Data Logging
edge digital pH meter allows you to store up to 1000 log records of data. Data sets include readings, GLP data, date and time.
Two Operating Modes
edge can be used in Extended or Basic Operating Modes. Extended Mode enables all features available while the Basic Mode reduces the amount of features to a very simple operation. For example, in extended mode edge offers 5 point calibration with 2 custom buffers while in basic mode calibration can only be performed to 3 points with 5 preprogrammed buffers.
Video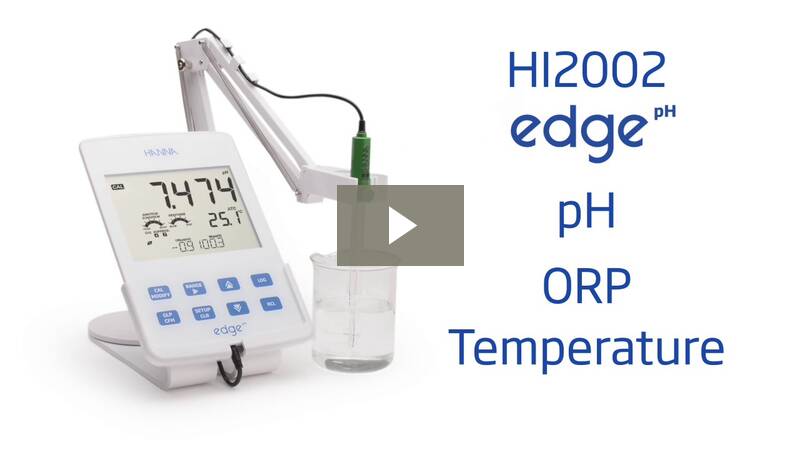 pH Specifications
pH Range

-2.000 to 16.000 pH (Standard Mode), -2.00 to 16.00 pH (Basic Mode)

pH electrode only supplied with the HI2002-02 edge® digital pH meter

NOT supplied with the HI2002-03 unit

pH Resolution

0.001 pH, 0.01 pH

pH Accuracy (@25ºC/77ºF)

±0.01 pH, ±0.002 pH

pH Calibration

5 points (Standard mode) 1.68, 4.01 (3.00†), 6.86, 7.01, 9.18, 10.01, 12.45, and two custom buffers; 3 points (Basic mode) 4.01; 6.86; 7.01; 9.18; 10.01

pH Temperature Compensation

ATC: -5.0 to 100.0ºC; 23.0 to 212.0°F*

mV Range

±1000.0 mV; ±2000.0 mV

mV Resolution

0.1 mV

mV Accuracy

±0.2 mV (±999.9 mV); ±1 mV (±2000 mV)

Relative mV Calibration

Single point calibration
Temperature Specifications
| | |
| --- | --- |
| Temperature Range | -20.0 to 120.0 ºC, -4.0 to 248.0 °F |
| Temperature Resolution | 0.1 °C, 0.1 °F |
| Temperature Accuracy | ±0.5 °C, ±0.9 °F |
| °C/°F | Yes |
Additional Specifications
pH Electrode Diagnostics

Glass and reference junction diagnostics ( HI 11311 & HI 12301 only), out of calibration range , probe condition, response time

GLP

Yes

Logging

up to 1000*** records organized in: Manual log-on-demand (Max. 200 logs), Manual log-on-stability (Max. 200 logs), Interval logging *** (Max. 600 samples; 100 lots)

Connectivity

1 micro USB port for charging and PC connectivity, 1 USB port for storage

Environment

0 to 50°C (32 to 122°F), RH max 95% non-condensing

Battery Type/Life

Built-in rechargeable battery with up to 8 hours of continuous use

Power Supply

5 VDC adapter (included)

Dimensions

202 x 140 x 12.7mm (8" x 5.5" x 0.5")

Weight

250 g (8.82 oz)

Ordering Information

edge® HI2002-02 digital pH meter includes benchtop docking station with electrode holder, wall mount cradle, USB cable, HI11310 glass body refillable pH electrode with temperature sensor, 2 sachets each of pH 4, 7, 10, cleaning solution, 5 VDC power adapter and instruction manual.

edge®HI2002-03 digital pH meter does NOT include a pH probe

Warranty

2 years (probe 6 months)

Notes

* temperature limits will be reduced to actual probe/sensor limits
*** For standard mode only (logging)
† pH 3.00 is only visible when using specific pH electrodes and will replace pH 4.01 buffer
Related links to "HI2002 edge® Dedicated pH/ORP Meter"
Available downloads:
Read, write and discuss reviews...
more
Customer evaluation for "HI2002 edge® Dedicated pH/ORP Meter"